ABF head's probe continues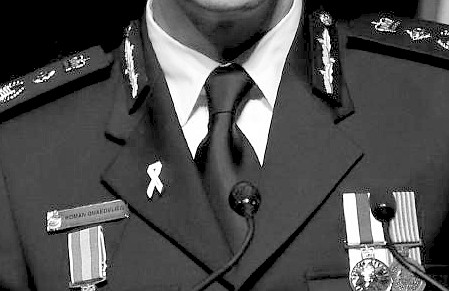 Australian Border Force Commissioner Roman Quaedvlieg is believed to have accrued $400,000 amid an investigation into his personal conduct.
While the nation fixates on the conduct of the Deputy Prime Minister, the lesser-known investigation into Commissioner Quaedvlieg - one of Canberra's highest profile public officials - is approaching the one-year mark.
The commissioner has been on leave for the duration, meaning he continues to receive his $619,905 remuneration package.
Almost nothing is known about the nature of the investigation beyond what was revealed under Senate estimates questioning by then-Immigration Department secretary Mike Pezzullo last October.
"The leave commenced in, I would have to refresh my memory, the latter part of May or possibly the early part of June," Mr Pezzullo told the 2017 hearing.
The Australian Commission for Law Enforcement Integrity is allegedly investigating claims that Commissioner Quaedvlieg had a relationship with a member of the Border Force, but this has not been officially acknowledged.
Labor senator Kim Carr referred to the allegations while questioning the Departmental Secretary in the estimates hearing.
"The allegation is with regard to a relationship between staff members; is it not?" Senator Carr asked.
"I've seen press reporting to that effect," Mr Pezzullo replied.
"I'm not going to comment on that press reporting."
Mr Pezzullo made said his workplace had a policy applicable that all office relationships were to be declared "to ensure that there is no conflict of interest", though he did not refer specifically to Commissioner Quaedvlieg's situation.
The new Home Affairs Department has said nothing about issue or how much Commissioner Quaedvlieg has been paid during his extended absence.
Roman Quaedvlieg's only public comments on the matter were made to The Australian newspaper last year, when he insisted he had not acted inappropriately and expected to return to his post as ABF Commissioner.