Bendigo slammed for island operations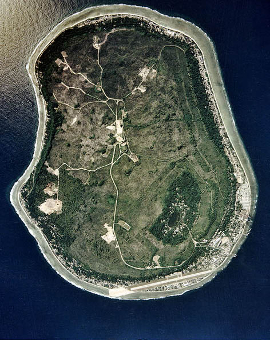 Bendigo Bank is under pressure to cease its operations on Nauru.
Westpac recently announced it was cutting ties with the government of the island nation, due to concerns about financial transparency.
Westpac has asked its customers that do business with the Nauru Government to shut their accounts before May 1.
Australian Greens Senator Sarah Hanson-Young says Bendigo Bank should take heed.
"If Westpac have their concerns about issues of money laundering, other financial risks, it's staggering to see that Bendigo Bank — a bank that is promoted as being one of community and social value — is entering into a financial relationship with the [Nauru] Government," Senator Hansen-Young said.
She said there should be moral concerns about the Nauru Government's operation of Australia's controversial asylum seeker processing centre.
"The money that is flowing around the island, it's a very small island, and it's coming primarily from the Australian taxpayer, funding the detention facilities and the abuse of vulnerable refugees on this island," she said.
"Many of their customers are surprised and shocked that they've now entered into such a tight financial relationship with the government of Nauru."
Bendigo Bank's customers and shareholders have raised similar concerns on the bank's Facebook page.
"I've just read about your dealings on Nauru. That is concerning to me and my family and I hope you will reconsider being involved with that place and that we will continue to have an ethical banking option," one Facebook user wrote.
Bendigo Bank became the only financial institution to have a physical presence on Nauru when it opened a local agency on the island last year.
The bank released a statement last week in response to Westpac's decision.
"We bank the local community," Bendigo Bank managing director Mike Hirst said,
"We also bank a number of the refugee communities and our desire to be there is about financial inclusion, about giving the Nauruan people and the refugees a hand up."
Mr Hirst rejected Senator Hanson-Young's arguments in a radio interview this week.
"It's the Australian people who've sent the refugees there. Now I know that the Senator hasn't written to all the major banks in Australia and asked them to stop banking the Australian Government," he said.
"The Australian Government is the one responsible for the people being on Nauru.
"Before we went in to Nauru, we spoke to both Austrac (Australian Transaction Reports and Analysis Centre) and DFAT (Department of Foreign Affairs and Trade) about the issues with anti-money laundering and we got satisfaction from that, that there were no longer issues there.
"Nauru is a member of the Asia Pacific group on money laundering. They've just been admitted into the World Bank and the IMF (International Monetary Fund) so I assume the World Bank and the IMF are comfortable with it as well."