Coal firms getting collective

Print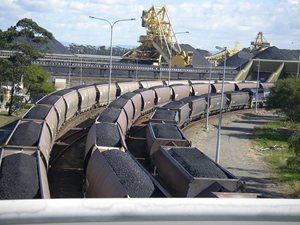 A mining lobby and coalition of coal producers could be authorised to collectively negotiate with the Port of Newcastle.
The ACCC is looking to allow the NSW Minerals Council and ten coal producers to collectively negotiate the terms and conditions, including price, of access to the Port of Newcastle for the export of coal and other minerals.
Since December 2019, Port of Newcastle Operations (PNO) has been negotiating with individual coal producers over proposed 10 year agreements for access to the port.
But the NSW Minerals Council and coal companies want to collectively negotiate the terms and conditions of this agreement with PNO.
"Collective negotiation gives coal producers an opportunity to reduce uncertainty and achieve more timely outcomes," ACCC Commissioner Stephen Ridgeway said.
"The ACCC considers there are several likely public benefits from granting this authorisation, including greater input by coal producers into the final agreement, which would ultimately facilitate more efficient investment decisions for the Hunter Valley coal industry. It will also result in lower negotiating costs for all parties involved," Mr Ridgeway said.
The ACCC has allowed coal producers to commence collective negotiations with PNO in an interim authorisation granted on 2 April 2020. The regulator is considering authorising these arrangements for ten years.
The proposed collective bargaining is voluntary for coal producers, and does not include any collective boycott activity.
The ACCC's proposed authorisation does not extend to sharing sensitive commercial information about customers, marketing strategies, coal volumes or future projections.
The consumer watchdog says the voluntary nature of the collective negotiations for both PNO and coal producers means the deal is unlikely to affect competition between coal producers.
It has invited comment on the draft determination, which can be made here.