Court rules on ignorant citizens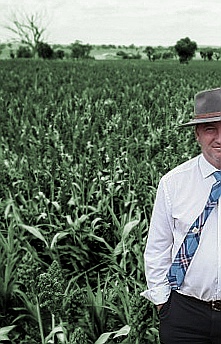 A High Court ruling has left Australia without a majority government, deputy PM, agriculture and regional development minister.
The High Court has made various rulings for the so-called Citizenship Seven - a handful of MPs and Senators who ran afoul of Section 44(i) of the Constitution of Australia, which says that any person, "who is under any acknowledgement of allegiance, obedience, or adherence to a foreign power, or is a subject or a citizen of a foreign power…" cannot be chosen as a member of parliament or the senate.
Differences in the nations of potential citizenship and the efforts made to disavow that allegiance mean that each of the Seven received different rulings.
Most argued that they were at least unware of their foreign citizenship, but the court ruled that ignorance is not a defence, and that people wishing to lead the nation should be able to read the paperwork.
Former deputy PM Barnaby Joyce was the most prominent of the group. The High Court ruled that because Mr Joyce's father was a New Zealander at the time of his birth, he was a Kiwi by descent.
Mr Joyce's ineligibility has triggered a by-election in his NSW seat to be held on December 2.
Foreign Minister Julie Bishop will take on the role of deputy PM until at least that date.
Senator Matt Canavan was spared from being disqualified because the court found his Italian citizenship was "potential" rather than actual, as he did not take positive steps towards gaining citizenship.
"Senator Canavan has not applied for a declaration of Italian citizenship," the court said.
Former Greens senator Scott Ludlam - a dual citizen of Australia and New Zealand – was found to be not capable of being elected to parliament.
Former Greens Senator Larissa Waters was born in Canada – giving her automatic dual citizenship – and did not renounce her Canadian citizenship when she nominated, making her ineligible for the Senate.
One Nation Senator Malcolm Roberts was born in India to a Welsh father, making him a British citizen.
The court found he knew there was at least a reasonable prospect he remained a British citizen after becoming an Australian citizen and at the time of his nomination, so he was disqualified too.
Nationals senator and deputy Nationals leader Fiona Nash was also found to be a British dual citizen, born in Australia to a Scottish parent, meaning she failed the test for eligibility too.
Senator Nick Xenophon argued that he thought he had renounced or taken steps to renounce all possible dual citizenship stemming from the fact his parents are from Cyprus and Greece.
In a strange legal quirk related to when Britain annexed Cyprus, Senator Xenophon had British Overseas Citizenship (BOC).
But because the BOC does not allow a person to reside in Britain, the court found Senator Xenophon did not have dual citizenship, and was validly elected.
The loss of Mr Joyce leaves the Turnbull Government without a majority in Parliament, which could have significant ramifications.
Independent MP Cathy McGowan has committed to support the Coalition, making an attempted no-confidence motion from Labor unlikely to succeed.
When it comes to individual pieces of legislation, Ms McGowan says she will continue to consider each on its merits.
This means that tied votes on legislation are possible if Ms McGowan and her four crossbench colleagues, Bob Katter, Andrew Wilkie, Adam Bandt and Rebekha Sharkie all vote with the Labor Party.
In that instance, Speaker Tony Smith would have a casting vote.
Labor has already refused to reduce its numbers by offering pairs for the LNP's missing people, suggesting Australia could be heading for what Acting Opposition Leader Tanya Plibersek has described as a "period of uncertainty".
There is already word that Labor will have a tilt at its much-talked-about banking Royal Commission, which LNP MP George Christensen has pledged to cross the floor to support.
The ruling could also throw into doubt a number of decisions made by Mr Joyce and Ms Nash during their time as federal ministers.
The constitution says that a person can serve as a minister for up to three months without being a member of Parliament. Given that Mr Joyce and Ms Nash were sworn in as ministers on July 19 2016, they technically lost their positions on October 20 of that year, according to legal advice from Matt Albert, QC, and Matt Collins, QC.
This means that at least 165 legislative instruments and announcements by the two former ministers could be challenged.
"Such decisions could be challenged on the basis that they are invalid, because the person making the decision was not constitutionally able to hold office as a Minister at the relevant time and therefore lacked power to make the decision,'' the advice said.
Some of the most prominent decisions include payments made to water entitlement holders in the Murray-Darling Basin, funding for the $220 million mobile black spot program, and Mr Joyce's moves to relocate the Australian Pesticides and Veterinary Medicines Authority from Canberra to his own electorate.
Attorney General Brandis says he is confident that most of their decisions are safe from appeal.
"Most decisions that ministers make are in fact made by the Cabinet on the recommendation of ministers,'' he told reporters.
"Appointments are made by the Governor-General or the Federal Executive Council on the recommendation of ministers. So I think you will find that there [are] no legal consequences here at all."