Fiery mistake destroys historic plants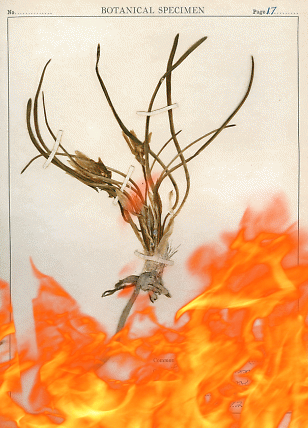 An irreplaceable set of plant specimens has been destroyed by Australian biosecurity officers.
The collection of rare flowering plants was sent to Queensland's herbarium in Brisbane from the French Museum of Natural History, featuring pressed plant specimens dating back to the mid-1800s.
But the flowers never reached their destination, as they were destroyed after it was discovered their papers did not match.
The Federal Department of Agriculture and Water Resources has issued a statement.
"The accompanying documents did not disclose required information — such as a listing of the specimens, botanical nomenclature, whether the goods were preserved or not," it said.
The department said a mix-up over email addresses meant it did not receive supplementary information from the Queensland herbarium in time, so it incinerated the plants while it was waiting.
The department claimed to have held the goods for 46 days longer than required, but conceded that the plants should not have been destroyed.
"The department acknowledges the significant value as a botanical reference collection," a spokesperson said.
"[It] concedes that destruction of the specimens should not have proceeded while communication between the department and the intended recipient was ongoing."
Chair of the Council of Heads of Australasian Herbaria, Michelle Waycott, said the scientific value of the plant specimens was hard to overstate.
"They were the first type specimens collected of a species," she told the ABC.
"That would be the equivalent of material collected in the Flinders expedition, going and then destroying those.
"So literally irreplaceable collections and of high historic and scientific value."
Ms Waycott said the incident would affect future studies.
"We rely on sharing specimens from all over the world to be able to do our science," Ms Waycott said.
"So it may have a major impact on our ability to do our research."

Reports say a collection of lichen specimens from New Zealand's Allan Herbarium destined for the Australian National Herbarium in Canberra was also destroyed by biosecurity officers earlier this year.
A review of the incidents has already led to changes to procedures, the department says, with new measures to improve communication and safeguards for items under investigation.
Representatives of Australia's herbaria met this week to discuss the incidents and ways to improve compliance with biosecurity rules.