Joyce threatens online giants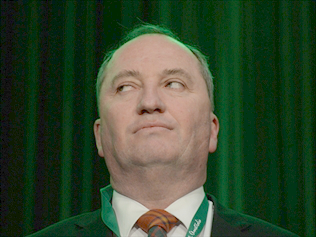 Deputy Prime Minister Barnaby Joyce says the Federal Government will regulate social media giants.
Facebook has been under serious scrutiny since whistleblower Frances Haugen leaked tens of thousands of documents showing it held back research into the harms of its products.
Additionally, Snapchat has been under significant pressure to curb the sale of illicit drugs on its platform.
Mr Joyce has a message for the social media giants.
"We've had enough, you can't treat us like fools. You think we're joking, we're not," he told the ABC.
"This time, something's going to happen."
He said legislation to curtail the power of social media giants will be on the table "soon".
Prime Minister Scott Morrison has also flagged changes to social media laws in Australia.
"Social media has become a coward's palace where people can go on there, not say who they are, and destroy people's lives," he said.
Mr Joyce said; "It's rare when a prime minister and a deputy prime minister in basically an unscripted way both have the same messages on virtually the same day and so the impetus is there".
He said his interest in regulating social media came from his desire to keep women, including his own daughters, safe.
"[I'm acting] on behalf of every parent, of every mother, of every person who's had to deal with a daughter who's been intimidated, bullied, basically psychologically kicked to pieces by marauding and uncontrolled forces on the internet," he said.
Chris Cooper is the executive director of Reset Australia - a think tank focused on big tech regulation.
He says there is bipartisan support between Republicans and Democrats to create change in the US.
"It's important for us to build on these moments and for our politicians to feel buoyed by this, this week and have the added confidence they now have that clearly there's a need to regulate and there's obviously appetite from the public for that too," he said.
"We've called for transparency around COVID misinformation. Very simple legislation that could better inform the communication outreach around our vaccine rollout."
He also pointed to legislation introduced in the United Kingdom and Ireland to protect children and their data.
"This in practice means the maximum level of privacy protection. It means not recommending 40-year-olds as friends to 16-year-olds," he said.
"It means ensuring that young people's data is protected and managed well and that young people have the ability to request the deletion of their profiles and for that to be simple and straightforward."