Statin tops drug count

Print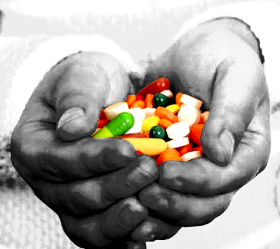 This year's list of the top 10 subsidised drugs is out.
Cholesterol medicine atorvastatin tops the list for both prescription counts and defined daily dose per 1000 population.
The hepatitis C combination ledipasvir/sofosbuvir tops the list of expensive drugs, costing the government more than $570 million for the year.
The hepatitis C drugs topping the list is the biggest change from last year's figures, says Dr John Dowden, editor of Australian Prescriber.
"These two new hepatitis C medicines—the combination ledipasvir and sofosbuvir, and sofosbuvir on its own—have come onto the market and rocketed into the number one position on the list of top drugs by cost to government," he said.
"They were only approved in March 2016 and in the four months to June 2016 have cost the government almost $1 billion for 43,000 prescriptions."
"These new hepatitis C medicines could help eradicate the disease altogether," says Dr Dowden.
Other expensive medicines with lower number of prescriptions include adalimumab for arthritis and inflammatory bowel diseases, ranibizumab and aflibercept for macular degeneration, etanercept for autoimmune disease, and trastuzumab for breast cancer.
"It's interesting to note that the most commonly prescribed medicines—such as the proton pump inhibitor esomeprazole and fluticasone/salmeterol for asthma—are not the most expensive," said Dr Dowden.
"In terms of common medicines taken by large numbers of the population, we are continuing to see the trend of previous years where medicines for cholesterol and high blood pressure top the list by prescription count."