FSP Research Scientist - Theoretical Population Biology - [Archived Advertisement]
First listed on: 28 April 2017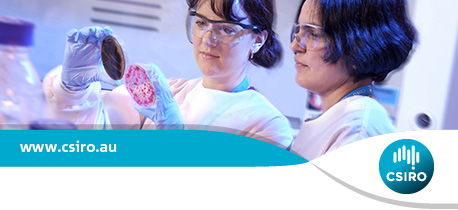 FSP Research Scientist - Theoretical Population Biology
An outstanding opportunity to work on Future Science

Undertake innovative research evaluating the potential for CRISPR/Cas9 gene drives to be used to manage agricultural pests

Join CSIRO's innovative teams in the Synthetic Biology Future Science Platform
The Position
CSIRO seeks to hire a research scientist to advance our understanding of the use of CRISPR/Cas9 gene drives to manage agricultural pests (i.e. insects, pathogens and weeds). The Research Scientist will be responsible for leading the development of a modelling platform to consider how pest biology, spatial and temporal deployment strategies and management scenarios influence the short-term spread of gene drives and longer-term durability within pest populations. We would particularly welcome candidates with a research interest in mathematical modelling of population and genetic dynamics of pest organisms, and in the application of ecological and evolutionary principles to solving applied problems in agricultural landscapes. The successful candidate will be expected to help develop tools to evaluate the potential of gene drives to contribute to the development of sustainable and novel pest management approaches, and assist in generating practical information regarding the likely effectiveness and risks of gene drives for use in specific pest systems. The research scientist will be expected to communicate their results to the scientific community and other stakeholders, and contribute to the development of future research directions and networks to drive future synthetic biology research opportunities.
Specifically you will:
Incorporate novel approaches to scientific investigations by adapting and developing original concepts and ideas for new, existing and further research.

Develop predictive models of gene drive spread and durability in agricultural systems.

Undertake regular reviews of relevant literature, produce high quality scientific papers suitable for publication in quality journals and for client reports.

Contribute to the development of innovative concepts and ideas for further research in managing agricultural pests.

Communicate effectively and respectfully in the interests of good business practice, collaboration and enhancement of CSIRO's reputation.
Location: Canberra, ACT
Salary: $92K - $100K plus up to 15.4% superannuation
Tenure: Specified term until June 2020
Reference: 38344
To be successful you will need:
A PhD and postdoctoral research experience in a relevant discipline area such as population genetics, epidemiology or evolutionary biology.

High level written and oral communication skills with the ability to represent the research team effectively internally and externally, including at national and international conferences.

A record of publications in quality, peer reviewed journals.

Demonstrated expertise in analytical modelling of the population and evolutionary dynamics of insects, plants or fungi.

Demonstrated ability to develop and analyse results from spatial computer simulation models.

Clear understanding of current knowledge regarding the ecological and evolutionary biology of agricultural pests.

A record of science innovation and creativity, plus the ability & willingness to incorporate novel ideas and approaches into scientific investigations
Who we are: The Commonwealth Scientific and Industrial Research Organisation (CSIRO)
At CSIRO, we do the extraordinary every day. We innovate for tomorrow and help improve today – for our customers, all Australians and the world. We imagine. We collaborate. We innovate.
Future Science Platforms: Future Science Platforms (FSPs) are critical to turn Australia's future challenges into opportunities to invent a better future for us all. FSPs are an investment in science that underpins innovation and that has the potential to help reinvent and create new industries for Australia. FSPs will see CSIRO grow the capability of new generation of researchers and allow Australia to attract the best students and experts to work with us on future science. They are strategic investments aimed at developing capacity in areas of identified future importance for Australia. FSPs are both impact and science focused, developing innovative scientific solutions with industry, government and university partners. They support world class, coherent and creative research teams which integrate science and delivery over the long term.
Synthetic Biology FSP: Synthetic Biology (SynBio) is the design and construction of biological parts, devices, and organisms, usually based on DNA-encoded componentry; and their application for useful purposes. It is becoming widely recognised that SynBio is the next transformative technology. SynBio is an emerging interdisciplinary field representing the convergence of diverse domains, such as biotechnology, evolutionary biology, molecular biology, systems biology, physics, chemistry, computer engineering and informatics, electrical engineering, and genetic engineering, among others. SynBio involves modeling, writing, and printing DNA code for the design and fabrication of new biological parts, devices, systems, and machines, as well as the re-design of existing, natural biological systems. SynBio has potential applications in areas as diverse as manufacturing, human health, agriculture and protecting ecosystems.
Before you apply please view the full position description and selection criteria here: Position Details Document
How to Apply: Please upload one document only that contains a cover letter addressing the selection criteria outlined in the Position Details Document, together with your Resume/CV.
Applications Close: 11:59pm AEST, 28 May 2017
CSIRO supports flexible work arrangements.

Closing Date:

28 May 2017
Location:

ACT - Canberra
Salary:

$92K - $100K plus up to 15.4% superannuation
Work Type:

Contract/Temp
Category:

Education/Training
Research/Statistics
Science/Technology