FSP Research Scientist - Synthetic Biology - Experimental molecular microbiology - [Archived Advertisement]
First listed on: 02 May 2017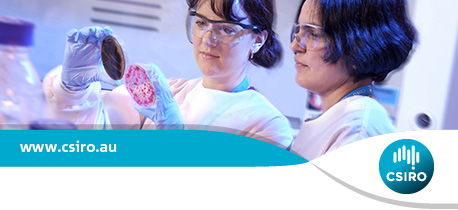 FSP Research Scientist - Synthetic Biology (Experimental molecular microbiology)
An outstanding opportunity to work in Future Science

Undertake innovative research in experimental molecular microbiology

Join CSIRO's innovative teams in the Synthetic Biology Future Science Platform
The Position
Synthetic biology will provide solutions to many of the challenges we face at the beginning of the 21st century. To have maximal impact, synthetic biology requires a suite of organismal platforms to guide the design and construction of novel biologically-based systems. The symbiotic system represented by lichens could address two major challenges: 1) the need for useful compounds for applications and innovations in pharmaceutical, cosmetic and chemical industries, and 2) environmental degradation. Lichens and synthetic lichens could simultaneously address these problems because they produce a unique array of secondary metabolites and they are self-sufficient in extreme environments, where they do, or could, protect or rehabilitate soils. The main obstacle to exploiting the lichen symbiosis for synthetic biology lies in our general inability to resynthesise lichens in the laboratory. Little is known about the processes by which a lichen forms and, therefore, about how to manipulate or mimic lichen development. The overall objective of this project is to build a platform for reliable resynthesis of a lichen symbiosis by focusing on two aims: 1) creating novel devices to manipulate interactions among symbionts and lichen-colonising microbes, and 2) using 'omic approaches to characterise key features of lichen development. This role will focus on both aims and will work in conjunction with experts on lichen biology, 'omics, device design and fabrication, and network modelling to achieve them.
Specifically you will:
Under the direction of senior research scientists, carry out innovative, impactful research of strategic importance to CSIRO that will, where possible, lead to novel and important scientific outcomes.

Engage with external collaborators from Harvard University and the Australian nanotechnology community to develop expertise in the design and fabrication of micro- and mesoscale devices.

Design micro- and mesoscale devices based on new innovations and use these devices for growth and manipulation of lichen symbionts (fungi, algae and bacteria) in various experiments.

Document cellular changes using various microscopy techniques and collect liquid and/or cellular samples from the devices for collection of genomic, proteomic, transcriptomic, lipidomic and metabolomic data.

Perform quality control and assembly of high throughput sequencing data, as well as the annotation of reference genomes for the fungal and algal study species.
Location: Canberra, ACT
Salary: $92K - $100K plus up to 15.4% superannuation
Tenure: Specified term until June 2020
Reference: 37504
To be successful you will need:
A doctorate or equivalent qualification and research experience, in plant or fungal molecular biology, microbiology, or a relevant discipline.

A record of scientific innovation and creativity plus the ability & willingness to incorporate novel ideas and approaches into scientific investigations, including these from other disciplines.

Significant experience with using micro-organisms (preferably fungi or microalgae) in research experiments, including working in sterile conditions, isolating/manipulating single cells, and co-culturing micro-organisms.

Demonstrated technical capability in plant and/or fungal molecular biology, including DNA or RNA extractions, high throughput sequencing, and genome assembly.

Strong written and oral communication skills.
Who we are: The Commonwealth Scientific and Industrial Research Organisation (CSIRO)
At CSIRO, we do the extraordinary every day. We innovate for tomorrow and help improve today – for our customers, all Australians and the world. We imagine. We collaborate. We innovate.
Future Science Platforms: Future Science Platforms (FSPs) are critical to turn Australia's future challenges into opportunities to invent a better future for us all. FSPs are an investment in science that underpins innovation and that has the potential to help reinvent and create new industries for Australia. FSPs will see CSIRO grow the capability of new generation of researchers and allow Australia to attract the best students and experts to work with us on future science. They are strategic investments aimed at developing capacity in areas of identified future importance for Australia. FSPs are both impact and science focused, developing innovative scientific solutions with industry, government and university partners. They support world class, coherent and creative research teams which integrate science and delivery over the long term.
Synthetic Biology FSP: Synthetic Biology (SynBio) is the design and construction of biological parts, devices, and organisms, usually based on DNA-encoded componentry; and their application for useful purposes. It is becoming widely recognised that SynBio is the next transformative technology. SynBio is an emerging interdisciplinary field representing the convergence of diverse domains, such as biotechnology, evolutionary biology, molecular biology, systems biology, physics, chemistry, computer engineering and informatics, electrical engineering, and genetic engineering, among others. SynBio involves modeling, writing, and printing DNA code for the design and fabrication of new biological parts, devices, systems, and machines, as well as the re-design of existing, natural biological systems. SynBio has potential applications in areas as diverse as manufacturing, human health, agriculture and protecting ecosystems.
How to Apply: Please upload one document only that contains a cover letter addressing the selection criteria outlined in the Position Details Document, together with your Resume/CV.
Before you apply please view the full position description and selection criteria here: Position Details Document
Applications Close: 11:59pm AEST, 28 May 2017

Closing Date:

28 May 2017
Location:

ACT - Canberra
Salary:

$92K - $100K plus up to 15.4% superannuation
Work Type:

Contract/Temp
Category:

Education/Training
Research/Statistics
Science/Technology