Senior Researcher Computer Vision - [Archived Advertisement]
First listed on: 27 October 2017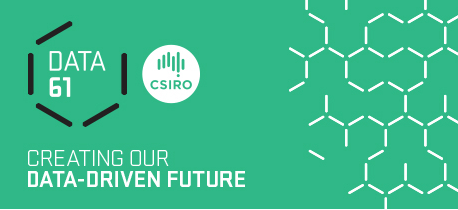 Senior Researcher Computer Vision
Work with technology with real-world potential

Use your expertise in

Computer Vision

Join

CSIRO Data61 - Australia's largest data innovation group
The Position
The successful candidate will create new algorithms and methods in computer vision under the direction of the research group leader. You will pursue the goals of 3D Computer Vision including scene understanding and 3D reconstruction. They will engage in external and internal projects of the Computer Vision group.
This role requires an understanding of methods of computer vision at a leading international standard. This includes methods for scene segmentation and understanding, 3D reconstruction and the use of deep learning techniques for computer vision.
Under the direction of the Group Leader you will:
Under the direction of senior research scientists, carry out innovative, impactful research of strategic importance to CSIRO that will, where possible, lead to novel and important scientific outcomes.

Produce high quality scientific papers suitable for publication in quality journals.

Prepare appropriate conference papers and present those at leading international conferences in computer vision and related areas as agreed with your supervisor.

Contribute to external projects as directed by your supervisor

Undertake regular reviews of relevant literature and patents.

Contribute to client reports and granting of patents as directed.

Work with your supervisor to contribute to the development of innovative concepts and ideas for further research in computer vision and related areas.
Additional Essential Criteria for CSOF6 Appointment:
Introduce new directions and approaches; solving complex problems using own professional expertise and knowledge of other disciplines and research areas.

Lead small research projects and assist with elements of larger projects including the negotiation of resource requirements.
Location: Black Mountain, ACT
Salary: CSOF5 - AU $95K - $103K plus up to 15.4% superannuation
CSOF6 - AU $109K - $128K plus up to 15.4% superannuation
Tenure: Specified term of 1 year (may be extended)
Reference: 46021
Pre-Requisites:
Education/Qualifications: A doctorate and or equivalent research experience in a relevant discipline area, such as computer vision or medical image analysis.
Communication: Excellent written and oral communication skills, evidenced by high-level reporting, presentation and negotiation abilities, and the capacity to identify and influence critical stakeholders to gain support for contentious proposals/ideas.
To be successful you will need:
Essential Criteria for CSOF5 and CSOF6 Appointment:
Demonstrated excellence in methods relevant to computer vision, particularly in scene understanding, 3D reconstruction and 3D scene understanding.

Experience in developing software in C++/Matlab.

A strong track record of a research in computer vision, evidenced by high quality publications.

Experience in deep learning methods in computer vision.

The ability to work effectively as part of a research team, plus the motivation and discipline to carry out autonomous research.
Additional Essential Criteria for CSOF6 Appointment:
Demonstrated experience leading a team or researchers / postdoctoral students.

Experience collaborating and engaging with industry including attracting funding, with the ability to deliver projects to clients.

A record of quality publications as primary author in high impact, peer reviewed journals or conferences.

A record of science innovation and creativity plus the ability to apply well developed research skills to scientific investigations.
How to Apply: Please upload one document only containing both your CV/Resume and cover letter providing enough information relevant to this position to enable the selection panel to determine your suitability. If your application proceeds to the next stage you may be asked to provide additional information.
Please view the full position details and instructions on how to apply here: Position Details
Applications will remain open until filled.
Who we are: The Commonwealth Scientific and Industrial Research Organisation (CSIRO).
At CSIRO, we do the extraordinary every day. We innovate for tomorrow and help improve today - for our customers, all Australians and the world. We imagine. We collaborate. We innovate.
We work flexibly at CSIRO, offering a range of options for how, when and where you work. Talk to us about how this role could be flexible for you. Find out more! CSIRO Balance
CSIRO's Data61 business unit is the largest data innovation group in Australia, bringing together approximately 600 research and development staff working in digital technologies to create benefit for Australia. Data61 develops Australia's future leaders with its strong 300+ PhD student program in collaboration with our best universities across Australia.
Our commitment to you
CSIRO's Data61 offers an open and supportive workplace, where employee wellbeing is a top priority. We are committed to providing a diverse and inclusive workplace by focusing on gender equality, support and development of women in leadership, increasing the employment of Australian Aboriginal and Torres Strait Islanders whilst supporting the LGBTI community and other diverse backgrounds.
CSIRO's Data61 offers a range of flexible working opportunities, including part-time and job share arrangements, to provide you with work/life balance. We emphasise an individual's growth and development which is supported by interacting and learning from world leading scientists and engineers, who provide the opportunity to challenge, transform and innovate new ideas.
CSIRO's Data61 is committed to sourcing the brightest and best talent to become part of the Data61 family that contributes to creating Australia's data driven future.
For selection documentation
and details on how to apply visit
www.csiro.au/careers or call 1300 984 220
Location:

ACT - Black Mountain
Salary:

$95K - $128K plus up to 15.4% superannuation
Work Type:

Contract/Temp
Category:

ICT
Research/Statistics
Science/Technology