Postdoctoral Fellowship in Farming Systems Agronomy - Digital Agriculture - [Archived Advertisement]
First listed on: 19 September 2017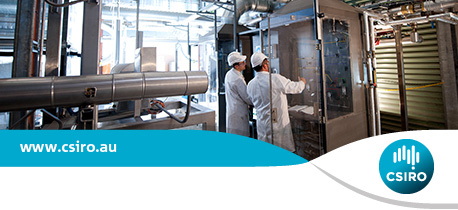 Postdoctoral Fellowship in Farming Systems Agronomy - Digital Agriculture
Are you an early career, highly motivated research scientist skilled in modern farming systems agronomy?

A unique opportunity to develop "digital agronomy" skills and collaborate nationally and internationally

Become a future leader of R&D in the area of modern farming systems agronomy
The Position
Postdoctoral Fellowships at CSIRO provide opportunities to scientists and engineers, who have completed their doctorate and have less than three years relevant postdoctoral work experience. These fellowships will help launch their careers, provide experience that will enhance their career prospects, and facilitate the recruitment and development of potential leaders for CSIRO.
Postdoctoral Fellows are appointed for up to three years and will work closely with a leading Research Scientist or Engineer in their respective field. They carry out innovative, impactful research of strategic importance to CSIRO with the possibility of novel and important scientific outcomes. They present the findings in appropriate publications and at conferences.
The Integrated Farming Systems Program of CSIRO Agriculture works in partnership with rural industries, communities, and governments to deliver improvements in agricultural productivity and profitability whilst minimising environmental damage. The core of the Program's science lies in better understanding and managing soil-plant interactions that underpin productive, profitable and sustainable farm businesses. We operate within and across scales; from plants to paddocks, integration of whole farm systems along with landscape management. We use combinations of experimentation, modelling and monitoring of plot- and farm-level experiments to identify and invest in novel approaches to sustainably intensify Australia's farming systems.
We seek to appoint a Postdoctoral Fellow to the Canberra-based farming systems team with existing field crop agronomy skills and an interest and capacity to develop and apply digital technologies to improve productivity and input-use efficiency of dryland farming systems. The team is focussed in dryland farming in south-eastern Australia, but collaborates nationally and internationally. A specific opportunity for the new appointment will be to develop and apply digital agriculture principles at the recently-purchased 290ha Boorowa Agricultural Research Station (BARS) near Canberra. Emerging technologies in soil and crop sensing and farming systems simulation will be linked to industry needs along with developments in precision agriculture, zone management and digital platforms that are being developed for industry application. The Canberra farming systems team has a specific and timely opportunity to integrate DA approaches and phenomics tools into the research and development activities proposed at BARS. In keeping with CSIRO's role as an "innovation catalyst" we envisage that BARS will develop as an interface between experimental technologies and on-farm application in the hands of an appropriately resourced farming systems agronomy team.
A Postdoctoral Fellow skilled in "digital agronomy" would greatly enhance the engagement of the Canberra-based team with the broader opportunities within CSIROs Digital Agriculture Initiative and the Digiscape Future Science Platform within CSIRO. Initially the role will be linked to specific investigations of interest to the agronomy team related to improving the water and nitrogen-use efficiency of the farming system, but the position offers a unique opportunity to develop digital agronomy skills to become a future leader of R&D in the area of modern farming systems agronomy.
We work flexibly at CSIRO, offering a range of options for how, when and where you work. Find out more here!: Balance
Your responsibilities will include:
Under the direction of senior research scientists, carrying out innovative, impactful research of strategic importance to CSIRO that will, where possible, lead to novel and important scientific outcomes.

Applying agronomic knowledge, soil science and plant production principles to investigate innovations that increase the productivity, water and nutrient nutrient-use efficiency, productivity and sustainability of the southern mixed (grain-livestock) farming systems in Australia.

Designing, conducting and analysing field-based experiments involving crop, pasture, soil, climate and management dimensions, and where appropriate applying new technologies for soil and crop sensing to monitor systems responses.

Developing strategies to integrate and apply digital agriculture principles to inform crop and farm productivity in both a research and commercial farming context.

Integrating new field-based data sources with crop models to assist in agronomic investigations in southern Australian dryland farming systems.

Interacting with growers, collaborating scientists across CSIRO and other organisations and funding agencies to foster the development of new research projects.
Location: Canberra, ACT
Salary: $80K - $91K plus up to 15.4% superannuation
Tenure: Specified term of 3 years
Reference: 44183
To be successful you will need:
A doctorate (or you will shortly satisfy the requirements of a PhD) in a relevant discipline area, such as crop agronomy, crop science, soil science or farming systems.

Experience with field-based agronomic experimentation in cropping systems and application of innovative technologies for improved productivity and efficiency for the whole farm enterprise.

Experience and/or demonstrated knowledge with the use and application of simulation and decision support models applied to crops and farming systems.

Experience and/or demonstrated knowledge of the application of digital agriculture principles, precision farming technologies, data handling and statistical analysis directed at agronomic research.

Capacity to engage with growers, industry partners, and funding organisations.
Owing to the terms of the fellowship, candidates must not have more than 3 years of relevant full time postdoctoral experience.
Who we are: The Commonwealth Scientific and Industrial Research Organisation (CSIRO)
How to Apply: Please upload one document only containing your CV/Resume, cover letter and statement addressing the selection criteria ensuring you provide enough information relevant to this position to enable the selection panel to determine your suitability. If your application proceeds to the next stage you may be asked to provide additional information.
Before you apply, please view the full position details and selection criteria here: Position Details document
Applications Close: 10:59pm AEDT, 31 October 2017.

Closing Date:

31 Oct 2017
Location:

ACT - Canberra
Salary:

$80K - $91K plus up to 15.4% superannuation
Work Type:

Contract/Temp
Category:

Agriculture
Education/Training
Environmental/Water/Waste
ICT
Research/Statistics
Science/Technology