CSIRO Undergraduate Vacation Scholarships - Research Office - [Archived Advertisement]
First listed on: 09 July 2018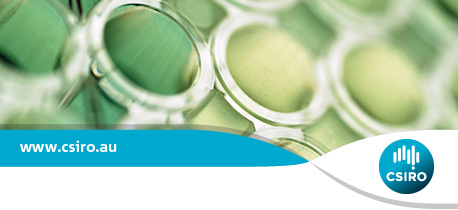 CSIRO Undergraduate Vacation Scholarships - Research Office
Get hands-on research experience
Access CSIRO's world-class facilities
Apply for a CSIRO Vacation Scholarship today!
Our Undergraduate Vacation Scholarships are run over the Australian summer holidays and offer high achieving and promising undergraduate students the opportunity to collaborate with leading CSIRO scientists in our world class facilities.
Students will have the chance to work on a real project in science, engineering or a related field such as science communication, or research management. Placements are full time and will typically begin in late November 2018 or early December and can be from 8 to 12 weeks in length.
Participation in the Vacation Scholarship Program has influenced previous scholarship holders in their choice of further study and future career options. Many have gone on to pursue a PhD in CSIRO or to build a successful research career within CSIRO, a university or industry.
The Research Office administers CSIRO's internal competitive funding schemes (Research-Plus and Future Science Platforms) and CSIRO's involvement in major external grant and award schemes. The Research Office have the following vacation scholarship available:
Project Title: Understanding the Experience of Early Career Researchers in CSIRO
Location: Clayton, VIC or Waite Campus, SA
Scholarship: $1,536.81 per fortnight
Reference: 57805
Project Description
CSIRO employs a large number of early career researchers, particularly Postdoctoral Fellows. The aim of this student project will be to conduct a qualitative and quantitative survey of CSIROs Postdoctoral Fellow community to understand their experience in CSIRO, and to evaluate the effectiveness of initiatives implemented since the survey was last conducted in January 2017.
Project Duties/Tasks
Review previous survey results and arising actions
Design and implement survey of early career researchers, supervisors and mentors
Work with relevant CSIRO groups to gain ethics approval and implement the survey
Analyse survey results and communicate in various formats including written report and oral presentation
Liaise with the CSIRO National Postdoctoral Fellows Committee
There may be the opportunity to be involved in other Research Office activities related to research grants and awards
Relevant Fields of Study
Business, e.g. HR, Marketing, Communications
Psychology
Social Sciences
Contact: For more details please contact Merrilyn Larusson by phone on 08 8303 8510 or email merrilyn.larusson@csiro.au
Pre-Requisites/Eligibility:
To be eligible to apply you must be an Australian or New Zealand Citizen, Australian Permanent Resident or an international student who has full work rights for the 8 to 12 weeks duration (does not require visa sponsorship).
Vacation scholarships are open to students who:
are currently enrolled at an Australian university;
have completed at least three years of a full-time undergraduate course (however exceptional second year students may be considered); and
have a strong academic record (credit average or higher).
How to apply:
You will be required to:
submit a resume/cover letter (as one document) which includes:

the reasons why the research project/s you have selected are of interest to you; and how your previous skills/knowledge and experience meets the project requirements; and
an outline of your longer-term career aspirations and detail how this program will help you achieve them.

upload your academic results in the 'Requested Information' field.
If you experience difficulties applying online call 1300 984 220 and someone will be able to assist you. Outside business hours please email: csiro-careers@csiro.au.
About CSIRO: The Commonwealth Scientific and Industrial Research Organisation (CSIRO) is Australia's national science agency. At CSIRO we shape the future. We do this by using science to solve real issues. Our research makes a difference to industry, people and the planet. Find out more at http://www.csiro.au/.
Applications close on: Monday 6 August 2018

Closing Date:

06 Aug 2018
Location:

VIC
SA
Salary:

$1,536.81 per fortnight
Work Type:

Full Time
Category:

Education/Training
PhD/Masters/Scholarship/Cadetship/Traineeship
Research/Statistics
Science/Technology