First listed on: 12 June 2018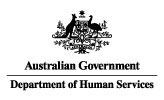 The Chief Information Officer (CIO) Group is a key component and enabler of the Department of Human Services strategic vision. At the forefront of public sector Information and Communication Technology (ICT) transformation, the CIO Group's vision is to excel in the provision of reliable, accessible and personalised services. The department's technology infrastructure, combined with its deep understanding and experience in delivering complex customer-focused services enables the CIO Group to shape the next generation of community services and lead best practice in service delivery.
The Adelaide Delivery Centre operates under a Professional Services model and comprises three branches; Compliance, Social Services and Professional Services. Under the Professional Services Model our workforce is organised into Practices, with the Practices constructed to respond to the demands placed upon the delivery centre. The Practices are:
Project Management (PM);
Analysis;
Design;
Development; and
Quality Assurance.
The Compliance and Social Services branches are accountable for the delivery of ICT projects using resources provided from the relevant Practices within the Professional Services branch.
The Data Analyst Manager supports instrumentation of Enterprise Data Management across all business units and develops data standards and strategy for the solution.
The Data Analyst Manager exercises a considerable degree of independence, with decision-making substantially dependent on their high-level judgement and consideration of wider departmental implications, with work being performed under the general guidance of senior managers. In performing a leadership role, the Data Analyst Manager drives innovation, changes in workplace practices and organises work in the context of competing priorities and strategic direction.
Specific skillsets required:
Data provisioning and migration experience and skills
SAP data modelling, structures, provisioning patterns and technologies
Operational Intelligence and Management Information development and provision
SAP HANA, Teradata and other database platforms used within ADC
Leadership experience in managing teams of data analysts and engineers to deliver outcomes for ICT projects is a mandatory requirement for this role.
Required knowledge and understanding of:
Frameworks, legislation, policies, procedures and information management requirements relevant to the work area
The department's privacy, ethics, workplace health and safety and security protocols
Relevant business systems and tools.
Extensive Data Analyst experience and skills within the department.
The successful applicant will be required to currently hold or be able to obtain and maintain a baseline security clearance.
Applications close 25 June 2018.
Closing Date:

25 Jun 2018
Location:

SA - Adelaide
Salary:

$99,400 to $110,144
Work Type:

Full Time
Category:

ICT
APS Classification:

Executive Level 1