Australia lines up cyber soldiers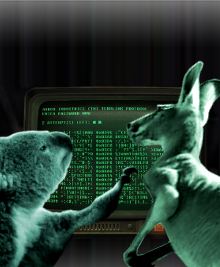 Australia's military is expected to launch a new information warfare unit.
Reports say the new unit to be unveiled this week will become a central part of Australia's future defence operations, tasked with defending from cyber-attacks and having the capability to launch its own digital assaults on foreign forces.
It will initially be manned by one hundred military personnel, before growing to 900 within 10 years.
The new unit's commander, Major General Marcus Thompson, has previously spoken on the recruitment challenges in cyberwar, in particular the military's strict physical requirements.
The unit is expected to be used to protect Australia's military infrastructure, as well as identify high-value foreign targets and launch its own attacks.
A key part of modern information warfare is psychological, so a central pillar of the new unit's role will also be to gather intelligence to be used in more traditional military activity and espionage. or launch attacks.
The United States, Russia and China have all demonstrated their prowess in cyber warfare, while many have criticised Australia for lagging behind on this front.
The announcements expected this week come after Prime Minister Malcolm Turnbull flagged his concern about cyber warfare earlier this year.