Boat deal sees split build

Print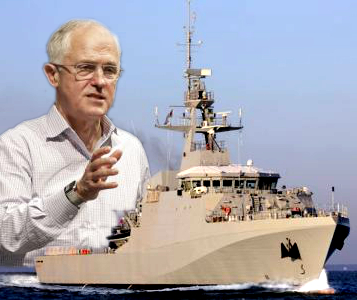 The Prime Minister has announced a $3 billion program that will see 12 offshore patrol vessels built in Adelaide and WA.
Three designers have been shortlisted for the offshore patrol vessels, one from the Netherlands and two from Germany.
The designers - BAE Systems with the Type 26 Frigate, Fincantieri with the FREMM Frigate, and Navantia with a redesigned F100 - have all agreed to build their ships in Adelaide.
Construction of the vessels will begin in Adelaide in 2018, and then shift to Western Australia in 2020.
The Prime Minister says the project will create over 400 direct jobs.
Federal Government backbencher Warren Entsch has blasted the Defence Minister and complained directly to Prime Minister Malcolm Turnbull about the decision.
The Queensland MP Mr Entsch had been lobbying for the boats to be built in Cairns.
"I don't support the decision — quite frankly I think it was bloody stupid," he told the ABC.
"I'm not going to just step down and accept it and just be a noddy in the background trying to justify what I see as a bad decision.
"The fact that I had to be told by the proponents of the unsuccessful bidders that they'd missed out before the [Defence] Minister [Senator Marise Payne] had the courtesy of getting [her] staff to come down and speak to me.
"I gave them short shrift in no uncertain terms."
The Defence Minister said everything was done by the book.
"In accordance with the requirements of the Defence Procurement Policy Manual and the Commonwealth Procurement Rules, the Government is required to ensure that any procurement achieves a value for money outcome," Senator Payne said in a statement.
"The Government's decision was based on an open competitive tender process and a comprehensive assessment of value for money.
"A formal briefing has been organised for Mr Entsch on Tuesday morning with a senior Defence official to provide him with further detail on that assessment."