Donation flows detailed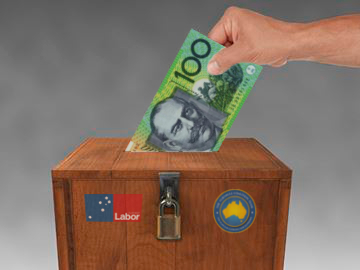 The Australian Electoral Commission (AEC) has released donations disclosures for 2018-19, showing the multi-million-dollar war chests put together to fight last year's federal election.
The Liberal Party tops the tally for donations, bringing in $165 million ahead of the May poll.
It is a serious drop to second place, with Labor receiving $126 million, the Greens' $20 million, the Nationals $16 million, Australian Conservatives $3.6 million and One Nation $3 million.
Mining companies and other major business players often hedged bets both ways, with Woodside, Pratt Holdings, KPMG, PricewaterhouseCoopers, Maurice Blackburn, Westpac, Wesfarmers and many others donating large amounts to both major parties.
Some lobbies did too, seeking to maintain their influence regardless of who won. The Minerals Council of Australia, the Australian Hotels and Hospitality Association, the Pharmacy Guild of Australia, Insurance Council of Australia, Australian Banking Association and several others donated to both major parties, even their state-level branches.
One figure stands out among them all – a giant $83 million donation by Clive Palmer's Mineralogy Pty Ltd to Clive Palmer's United Australia Party.
Analysis from the Grattan Institute suggests Palmer tried to "buy the election" with a $90m spend, largely made up of the $83.3m donation from Mineralogy.
"This is the single biggest donation on record, way above the previous record of $15 million – also held by Palmer – at the 2013 election," Grattan's senior associate Kate Griffiths said.
"The largest non-Palmer donation ever was $4 million from a private investor and philanthropist."
Post-election reviews by Labor and the Australian Council of Trade Unions (ACTU) both blamed Palmer's ad spend for the LNP retaining power.
Palmer says he intentionally polarised the electorate with anti-Labor ads during the campaign.
The new documents also reveal that Clive Palmer's wife Anna Palmer gave $330,000 to the Nationals while her husband was seeking to re-enter parliament with his United Australia Party.
Mr Palmer says he knew nothing of his wife's donation to the Nationals, a party he was running against.
"Women are independent [and] have the right to decide who they vote for or [who to] support; the days are long gone when a man can dictate to a woman and so they should be," he said.
Mr Palmer is certainly not shy of supporting anyone other than Labor, with a Facebook account linked to his party paying for and posting a Queensland LNP election ad.