Door flaw hobbles choppers

Print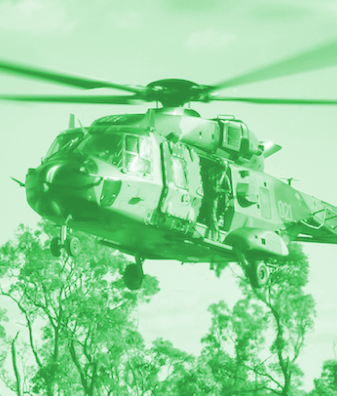 The Defence Department has revealed that the MRH-90 helicopter fleet has a major flaw.
The design flaw with the $3.8 billion Howard-era fleet of helicopters has limited its operational capability, according to senior military and defence department figures.
Chief of Army Lieutenant General Richard Burr told a Senate estimates committee hearing this week that the 47-strong fleet of MRH-90 Taipan helicopters suffers from a door flaw that has limited its suitability for certain operations.
The design flaw means that suppression fire from a side mount gun while troops cannot be undertaken while rappelling is occurring.
General Burr said some "tactical workarounds" had been developed, but admitted that a new round of adjustments is needed to rectify the problem.
Defence initially replaced the original gun mount with a second one, but it the preferred weapon did not fit afterwards. Also, its placement prevented firing while troops were rappelling. A new adjustment has been ordered, at a cost of $21.9 million.
"It's an issue of the width of the door," Defence first assistant secretary Shane Fairweather said.
"The door isn't wide enough to be able to exit safely while firing is taking place."
Even the new gun mounts, to be installed by manufacturer Airbus Australia, will not allow for simultaneous firing and rappelling. Defence says it will minimise the times that firing cannot take place.
The $3.77 billion fleet is scheduled to achieve its final operational capability by December 2021. The Navy intends to use six MRH-90 helicopters, saying a separate issue with its cargo hooks is "very close" to being resolved.
"I'm very, very aware of the issues that have plagued that part of this capability, which is why [Minister for Defence Industry] Melissa Price and I have met more than once with Airbus and with their CEO in relation to remediation of this project," Defence minister Linda Reynolds said.
"We continue to monitor the project, very carefully with Airbus and with Defence."
Chief of Defence General Angus Campbell described the chopper fleet as "extraordinarily advanced".
"The MRH 90 is an extraordinarily advanced helicopter and it does do things that no other helicopter on the planet can do," General Campbell said.
"There is no perfect helicopter, there's no perfect machine or person and it is a matter of understanding how to fly that helicopter.
"You're quite right, there is an issue with the door guns. We know it. We're working on it."