Hunt faces interference claim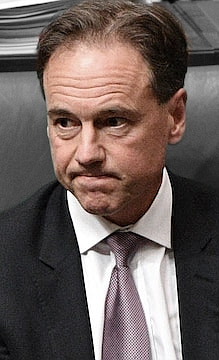 Health Minister Greg Hunt has been accused of interfering in the review of a medical product.
Emails obtained under freedom of information show the health minister's office was "very keen" for the Therapeutic Goods Administration (TGA) to review the new self-testing flu kit.
In May last year, John Skerritt, TGA deputy secretary, said in an email that he; "Had another call from the MO [minister's office] - they are very keen for this issue to be reviewed."
Ellume, the company behind the product, is owned by a Liberal party donor, but Mr Hunt has denied helping push for the regulator's review.
Existing regulations against the use of self-diagnosing devices, including for the flu, have prevented it from being approved.
In an email dated May 30, 2019, Professor Skerritt said: "The basis for this prohibition, which has been in place since 2010, was that it is considered that such testing is best conducted in conjunction with a healthcare professional".
Labor's health spokesman Chris Bowen said it raises "huge concerns" about Mr Hunt's integrity.
"This blatant misuse and cover up of a respected independent process is the latest in a line of scandals from the Liberals and their mates," Mr Bowen said.
"Greg Hunt needs to stop misusing government processes and start taking action on the record high out of pocket costs and waiting lists in Australia's health system."
Mr Hunt denies the allegation.
"The Therapeutic Goods Administration advised Australia was 'some years behind some other medium-large [medical] regulators' on this matter," his spokesperson said.
"The TGA indicated that a review would require ministerial support as standard practice. A formal request for a review then followed with the minister's consent in line with the TGA advice."
Peter Dutton has leapt to Mr Hunt's defence, claiming the allegations are "just false".
"I think we're being led in today's society by Twitter feeds from anonymous people - I think we need to strip that emotion away," Mr Dutton told reporters.
"As I keep saying, let's stick to the facts."