First listed on: 05 June 2018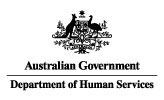 The Chief Information Officer (CIO) Group is a key component and enabler of the Department of Human Services strategic vision. At the forefront of public sector Information and Communication Technology (ICT) transformation, the CIO Group's vision is to excel in the provision of reliable, accessible and personalised services. The department's technology infrastructure, combined with its deep understanding and experience in delivering complex customer-focused services enables the CIO Group to shape the next generation of community services and lead best practice in service delivery.
The Practice Director, Quality Assurance is accountable for leading, building quality assurance and testing capability and the allocation of Test Managers and Test Engineers to projects across the Adelaide Delivery Centre. This position is also responsible for the CIO Group's Test Centre of Excellence (TCoE).
The Practice Director, Quality Assurance collaborates with peers, business counterparts and customers to ensure the Adelaide Delivery Centre products comply with documented standards. They provide input into programmes to improve the quality of services and products delivered enhancing business outcomes and customer experience. Through the TCoE, they are also responsible for test governance, processes, frameworks, test tools, automation and test reporting and metrics across the CIO Group.
The Practice Director, Quality Assurance operates with a high level of autonomy with decision-making highly dependent on their own judgement. In performing a leadership role, they identify and drive innovation, manage and lead change, and has an active role in contributing to and implementing the department's strategic direction.
The successful applicant must possess, and be able to demonstrate knowledge of tools, concepts and methodologies of Quality Assurance in a large, complex ICT environment.
Key skills/personal attributes
Ability to:
Undertake quality assurance inspections and audits across the CIOG including implementing corrective action programs;
Lead and motivate staff and create a shared sense of purpose to achieve quality outcomes and project completion;
Think strategically, understand linkages and develop long term strategic plans for the work area, considering work in the context of future priorities;
Manage, mentor and oversee staff learning and development;
Drive change, lateral thinking and innovative practices, manage uncertainty and guide staff through the process;
Undertake objective, critical analysis, distil the core issues and resolve conflict using appropriate strategies, ensuring suitable outcomes for the parties involved;
Make balanced decisions using professional judgement, risk evaluation and in the context of ambiguity and a changing environment;
Demonstrate personal resilience and apply well developed influencing, negotiation, conflict resolution and mediation skills.
It is highly desirable for the successful applicant to have experience in leading software testing/quality assurance teams within a multidisciplinary team environment and that they hold industry recognised ICT qualifications:
Bachelor degree
International Software Testing Qualifications Board (ISTQB) certification
The successful applicant will be required to currently hold or be able to obtain and maintain a baseline security clearance
Applications close 18 June 2018.
Closing Date:

18 Jun 2018
Location:

SA - Adelaide
Salary:

$115,028 to $136,794
Work Type:

Full Time
Category:

ICT
APS Classification:

Executive Level 2